NJ Tech Industry's Bright Future
August 3rd, 2018
Leaders in New Jersey's tech industry were upbeat yesterday in a panel discussion organized by CIANJ to examine the future of the industry and the challenges it faces.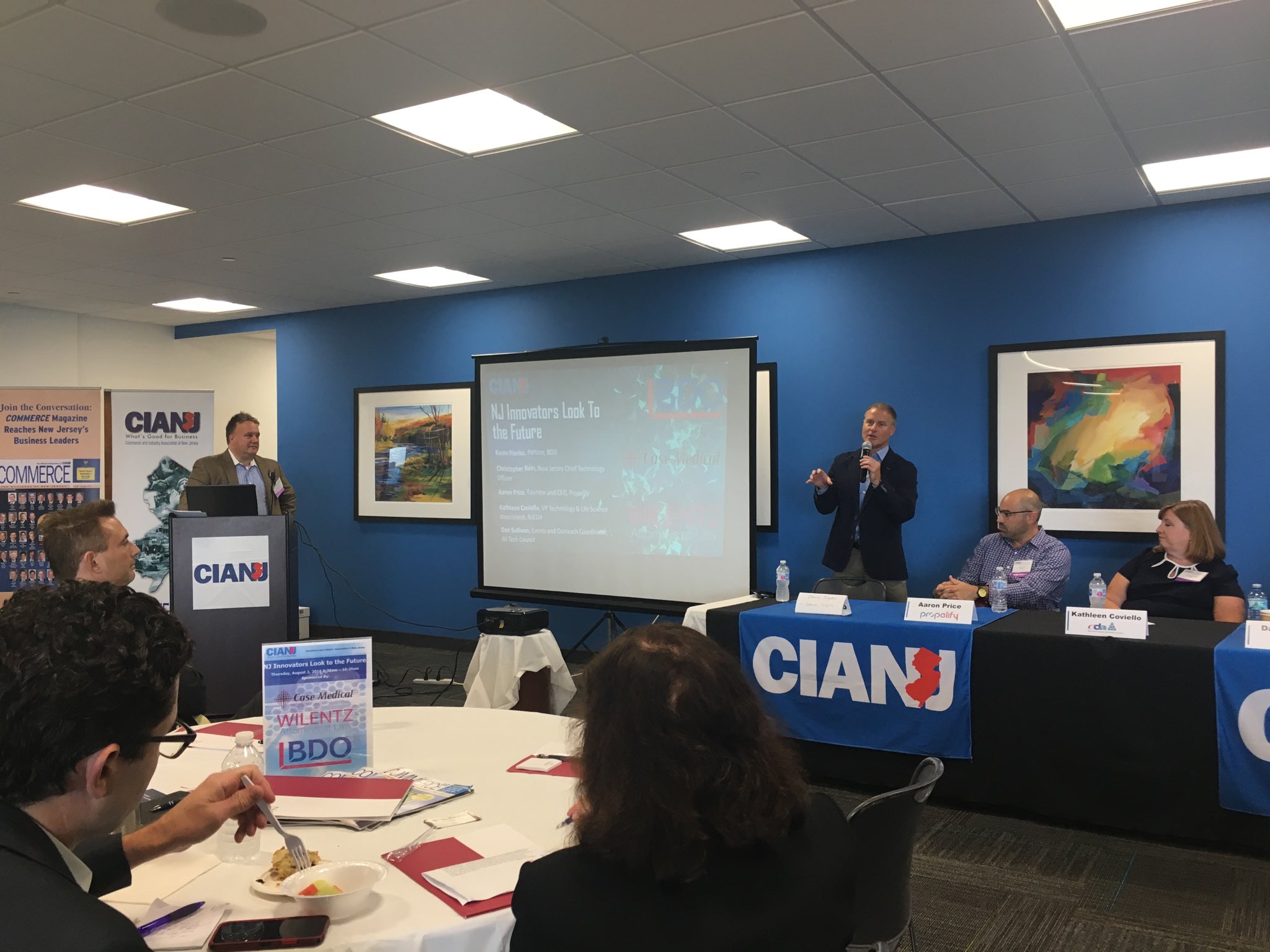 Aaron Price, an entrepreneur and founder of Propelify –the hugely popular tech festival in Hoboken, got the energy flowing in the room when he asked everyone to high-five their neighbor. The unusual ice-breaker set the tone for a casual yet high-level discussion.
Price said the elements vital to the industry's success are: Community, capital, press, education and talent. Chris Sugden, managing partner at Edison Partners, a venture capital firm, said while New Jersey tech innovation accounts for a slim portion of his firm's portfolio, their biggest successes occurred in  Bedminster.
Sugden  said New Jersey has a great assets to attract and grow its tech industry, but it needs to  better brand itself. "Tell your story – blog it, tweet it." Dan Sullivan of the NJ Tech Council, concurred, urging innovators to collaborate and inspire each other.
Kathleen Coviello, the vice president of technology and life science investment at the state Economic Development Authority and Christopher Rein, the new chief technology officer for New Jersey, emphasized the new administration of Gov. Phil Murphy is committed to strengthening technology and innovation. Coviello stressed the plans to create an innovation hub in New Brunswick, as well as retooling financing programs to support tech. Rein hinted that the governor will be unveiling new initiatives for technology soon.
"Whether you're Republican or Democrat, this administration is saying it's critical to be part of the innovation economy," Sugden said.
More than 50 business men and women attended yesterday's program which was moderated by Kevin
Pianko, a partner at BDO, who chairs the CIANJ Technology for Business Forum. The event took place in the conference room of the Wilentz Building in Woodbridge. Brett Harris, shareholder at the Wilentz law firm, who also serves on the CIANJ technology forum, welcomed everyone to the event. Case Medical, a South Hackensack manufacturer of sanitized medical devices, was also a sponsor of the program.